The Insert Image tool within the WYSIWYG editor has been slightly improved for a better user experience. The 2 methods of choosing an image source are now represented by 2 tabs across the top of the tool. You can now upload an image directly from the page you are editing, as well as entering the image asset number ( if image has already been uploaded to the SQUIZ matrix system).
Uploading an image:
Select the uploading option
Choose file from your computer
Select 'Use current asset' as upload location
DO NOT show in menu
Indicate if image is decorative or add alt text
Select 'upload image'
Quick Edit:
Quick Edit is a brand new feature in Edit+ that lets you quickly edit inline image assets without needing to leave the current editing interface of the page you are on.
Once you have selected an image asset embedded within the content, you can click on the new "Edit" button to launch the Quick Edit overlay interface.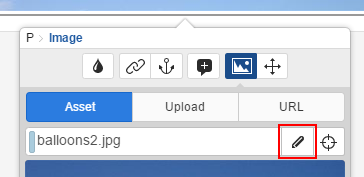 The quick edit tool will open:
You can edit
Title
Filename
Alt text
Caption
Image Variations:
The image variations are templated sizes created for the UON website. Please choose the correct size for your image. Please see more on image sizes here.
Editing Options:
Images can now also be edited within the Edit+ interface directly from the Quick Edit interface or the Details screen of an Image asset.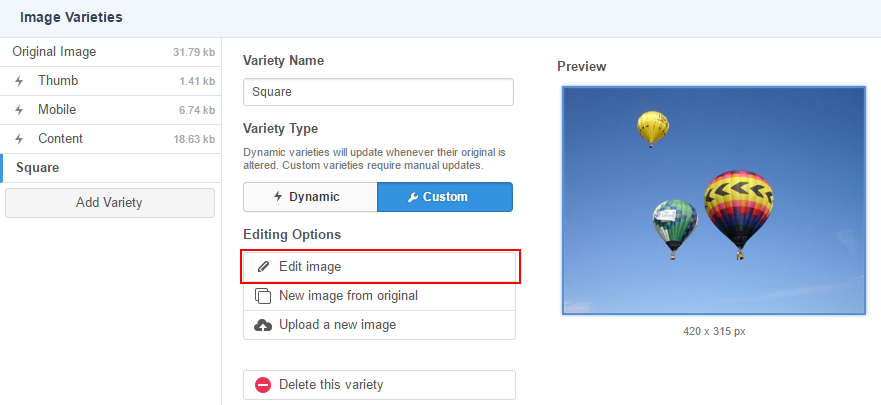 When viewing the details of the Original Image or when editing or creating a custom Image variety, you can click on the "Edit image" button to launch the Image Editor.
In here, you can do basic image manipulation such as rotating, flipping, and cropping before saving an updated version of the image.